Pilot plant equipments for the evaluation of the lacquer qualities in practical range of application. Rectifier until 600V DC 160A, Diptanks until 4000l. With ultrafiltration, anolyte cycle and heating cooling system.
Clock plant for mass parts.
Compact unit with dual functions over the baths. Automatically changing goods carriers for high numbers of items. With all pre and subsequent treatment stages and chamber furnace drying process.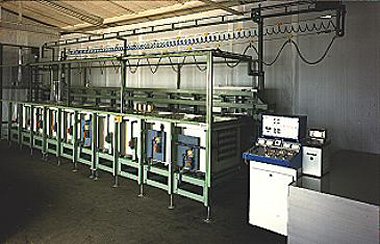 Mass parts – coating.
Clock plant for mode eyeglasses, autosmall articles, building fittings, costume jewelry, electrical parts etc